Thörn Alexander News & Updates
Our needlepoint collection is now exclusive through your Local Needlepoint Shop via KCN Designers. Be sure to support your local shops by ordering your favorite designs through them!
If you are seeking a special one-of-a-kind or altered variation of our designs, Brooke is now accepting custom work. Please note that she paints them from her studio on Vancouver Island and will be shipping from Canada accordingly. Reach out through our Get In Touch form.
Needlepoint Reimagined
Needlepoint is an art form that has been passed down for generations. From necessary to novel, embroidery has since been used as a way to tell history, celebrate creativity, adorn and revitalize clothing, demonstrate activism, project status and most importantly, communicate love.
Today, needlepoint empowers people of all artistic levels to be creative on the go, stitch handmade gifts and most importantly, unplug, all while relieving some stress!
We have created some accessible digital patterns to help you land on your feet!
Inspired by wandering daydreams and foraged finery
Inspired by wandering daydreams and foraged finery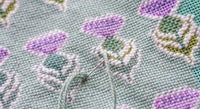 How To Needlepoint
In effort to save some trees, we are are taking our field guide digital! Step-by-step instructions for learning your new favorite outlet to unwind.
Free E-Booklet!